Is it Friday already?? I have honestly never had a week speed by this quickly! I am flying solo this week as the kids are at their grandparents house enjoying a little time in the country. So where has the week gone?? I had high hopes of getting absolutely everything done on my to do list this week.....and I actually only have a few things cehcked off. And.I.mean.only.a.few. But ya' know what...I'm ok with that!Tuesday I leasurely spent the day downtown. Soaking in trim and beads and all sorts of deliciousness. Wednesday was my birthday and I decided to indulge myself a little. I spent the morning with a girlfriend (helping her sew curtains) and then the entire afternoon making jewelry for myself. Never do anything like that!
And yesterday.....well!! I must have been a bit sleep deprived because yesterday included a THREE HOUR nap! Which would make you think I woke up bright and early today ready to conquer the sewing list....but nope! I woke up at 9:40. Seriously.SLACKER! I'm sort of laughing at myself as now I think I am actually groggy from too much sleep. lol. A girl cannot win! Clearly I need to ge t a move on, that To Do list is not going to get any shorter as I sleep the day away. If you have a little time to lounge today - swing by macys.com they have a FANTASTIC sale section right now. Rachel Roy is one of my all time faves as well as Bar III. They both have a leasurly laid back vibe to them. No surprise, right?? Linking up with Blonde Episodes for Fashion Friday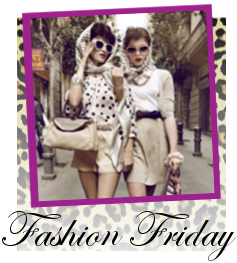 Happy Stylish Friday!