I'm not a huge fan of Halloween, I basically go through the motions so the girls have great memories....goodness knows what sort of therapy they would need later in life if we didn't have a proper Halloween. lol. I'll spend the night juggling kids around as both of them will want to trick or treat with friends...different friends. Separately. If I were to dress up, I would be the fashion police.
Easy, chic and most of this is already in my closet - sans the wedge high tops, but I'm one trip to DSW away from pair of those bad boys! I think some of you might want to call the fashion police on me for the shoes, but I love them and you gotta' own your style!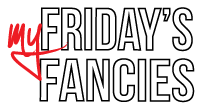 Happy Stylish Friday!