It's party time! The weekend is just about here - which is always something to celebrate - and it's the 100th Friday's Fancies post over at
av's blog.
...that certainly calls for a celebration!! Parties usually mean a new party dress for me but I am looking for other options lately as I know I have a few great dresses in my closet that can very easily be dressed up with accessories. Ban.do has the perfect line of accessories to take any LBD to the next level.
I have to admit, I am not usually a fabric flower type of gal (if you can believe that!) but Ban.do is different. There product just has that little something extra...maybe a touch of a vintage feel while still being modern? It's all sparkle, all girly, all disco ball and confetti cannons all the time...it's Ban.do! I was able to preview their entire line of goodies this week and fell in love. The fabrics they use as top notch and all of the brooches and rhinestone pieces are very well done. They have a great weight to them which really appealed to the vintage brooch collector in me!
Check out the party that is Ban.do here.... they are cool....really cool. Aaaannnd if you live in the LA area, they are soon opening a pop up cart at the Grove. I promise once you see these goodies in person you won't be able to resist.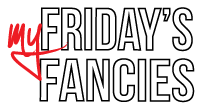 Linking my fancy party self up here!!
Cheers!